"The only way out, is in."
– Sadhguru
The world is constantly clamoring for your attention. Yoga can help you turn your focus back towards yourself, to the here and now. Both physically and mentally. This will enable you to pay attention to the world around you in turn, from a place of balance.
We believe in a healthy, active lifestyle. Yoga helps you become strong, supple, more relaxed and more resilient, all in both the physical and mental sense. We aim to create an environment where you will feel comfortable to try new things and explore yourself and your boundaries.
Release your busy day, re-energise yourself, or create a well-deserved me-time moment.
Our yoga studio in Leiden
Liv Yoga is a small yoga studio right at the heart of the Leiden city centre.. At Liv, practicioners can count on lots of personal attention. We offer a wide range of classes, 7 days a week. There's something for everyone, and you get to decide on the right balance for you, between exertion and relaxation.
Whether you are young or old, flexible or stiff, no matter: yoga is for everyone. You get to decide whether you want to break a sweat or sink into relaxation. Our classes are suitable for all levels of practitioners, from beginners to very experienced yogi.
A slightly gentler type of yoga in which you stay in postures slightly longer. Hatha yoga focuses on strengthening and releasing tension from the muscles, as well as strength training, breathing exercises, flexibility, balance, stretching and relaxation.
A vinyasa class consists of a series of flowing yoga poses at the pace of your breath. Explore the (im)possibilities of your body and mind, and perhaps move out of your comfort zone to tackle more challenging poses and transitions. Vinyasa yoga helps you build strength and stamina and improves your flexibility and creativity.
The focus in a (Yang) Yin class is on slowing down and being gentle and kind to yourself and your body. You stay in postures for a little while, allowing you to truly turn inward. Apart from offering mental relaxation, this type of yoga works into the joints and connective tissue to strengthen and loosen them up.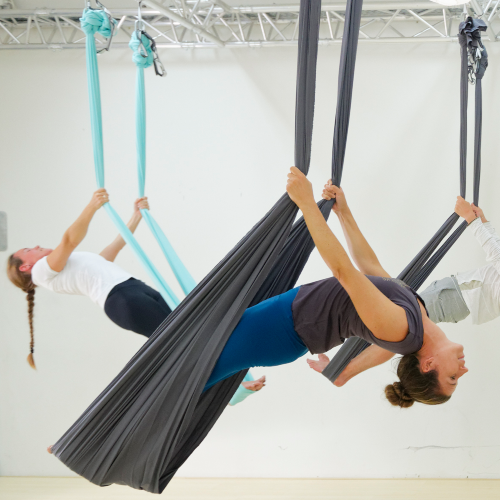 From July 1st onwards! Enjoy the way the drapes support your body and enable you to enter yoga poses effortlessly, even hanging upside down! Aerial yoga represents an entirely new yoga experience for beginners and more experienced yogi alike, and is sure to leave you with a smile on your face thanks to its playful character.
From September 1st onwards Acro yoga is a type of yoga that has you balancing others on your hands and feet, and balancing on top of theirs in turn. It is a playful type of yoga in which you help one another 'fly'. It requires and fosters genuine human connection, empathy, trust, good communication skills, strength and courage. Find the perfect balance together – in any case, you are sure to have a lot of fun while looking for it!
Online classes (at home) and offline classes (at the studio), 7 days a week! !
To book a class, you need a valid membership or subscription card. To purchase one of these, go to our online shop. The easiest way to go about it is to then download our app and book your classes via the app.
Want to get to know us a bit first? Get two trial classes for €15 and use them for any of our classes. Our recommendation We recommend that you try two different types of yoga and two different teachers. That way, you'll get a balanced idea of what our studio has to offer.
Find it under 'subscription cards'.
Teaching what is inside you
We want to offer you flexibility in a way that best suits you. Choose between a membership, a single class or a subscription for 5, 10, 20 or an unlimited number of classes Once you buy your subscription, it is entirely up to you to decide when to come, booking your classes yourself via our online system or the app.
If you have any questions about our subscriptions…
Please always feel free to call us at 06 41 886 444.
We also offer private classes! Geared specifically towards your personal challenges & needs. Our private classes are suitable for both beginners and more experienced yogi.