Lodie
I came to yoga through sheer necessity. At the time, it felt like a stroke of bad luck, but I now know it to have been a blessing in disguise. I used to teach intense classes like BodyCombat and BodyPump, but was unable to continue due to a number of injuries and an accident I was in. In my journey to find other ways to develop my body, I came across yoga. Initially, every class was a struggle. 'What am I doing?!' I would think. 'I want to sweat, get stronger, be challenged physically – I want to buckle down and just go nuts!'
Two years have passed since then, and every class I teach or take now feels like a celebration. I've come to truly love yoga, not just because of what it does for my body, but perhaps even more so for what it does for my mind. After I completed my teacher training and began teaching, the first class I taught truly felt like coming home. I could never have dreamed it would ever be like that at the start! For me, yoga is about learning to listen to my body and mind – something that I used to find difficult, and rarely did as a result. Yoga is about getting to know myself inside and out, and doing so anew every single day.
I want to help others experience what yoga does for me, and help them think less and feel more. In my classes, I focus on helping you feel what every pose, meditation and breathing exercise does for you. After all, all of us are unique. The challenge for me is to connect with my students every single class and try to sound out what every one of you needs, and provide it, if I can. Give yourself the opportunity, the space, and, most of all, the time to experience yoga, and I bet you'll come to love it just as I have.
Lopa
Lopa is an actor and voice and speech coach from Vancouver, Canada and she's been a yogi for almost 20 years now. She moved to Leiden two years ago to live with her partner and their very old, very wise kitty cat.
For Lopa, the journey of yoga has been a gradual movement from the liveliness of Ashtanga to the spirit of Hatha (teacher certified in 2008) to the profound wisdom of Yin (teacher certified in 2014). She believes that a Yin practice is very much needed in our fast-paced world: to bring ourselves to the present moment; to witness how our minds move; and to engage with our innate ability to soothe and transform our worldview through the body and breath. Lopa's goal as a Yin teacher is the same goal that she has in her work as a spoken voice coach: to help facilitate a person's full expression of their life as a human being.
While completing her Masters in Fine Arts in Acting where she focussed on Voice, Lopa began to develop Radiant Vocal Yin. This embodied practice is a fusion of Yin postures and philosophy with solid, practical voice work to help the practitioner experience a more resonant, free, expressive, and radiant spoken voice. She plans to organize a Radiant Vocal Yin workshop at Liv Yoga later this year. Lopa also offers purposely small (4 people max) Yin and voice classes out of her home studio on the Utrechtse Veer.
As you can tell, Lopa's classes will be fully in English. She can't wait to teach a class 'helemaal in het Nederlands', but her B2-level Dutch just isn't there yet. It won't be long though, want zij vindt het Nederlands een superleuke tall om te spreken 🙂 She's looking forward to meeting you on the mat!
Felix
I first started yoga to combat some back issues I was having, but I continued to practice because of the profound impact it has on every aspect of my life. The beauty of yoga, for me, lies in the insights it provides you with, both on a physical and a mental level, and the balance it creates between those two dimensions.
I chose to complete my yoga teacher training in India so that I could fully immerse myself in the yoga lifestyle. This was a tough, confrontational experience, but it taught me so much, and I am now unable to imagine a life without yoga. Every single day, my yoga practice feels like I'm coming home within myself, and I hope to be able to help others experience the same with my classes.
Apart from yoga, I do ballet and Pilates, and I like to incorporate elements of these in my yoga classes. My classes focus on challenge, alignment, core awareness, flow and balance. I feel that challenge in particular is a very important element. In my opinion, challenging yourself both mentally and physically is an essential part of yoga. By consciously seeking out your body's barriers and pushing them little by little, you eventually get to a point you've never been before. By assisting you in this process, I hope to provide you with new insights and help you discover new possibilities that you were unable to see before.
ANNE
Hi! I'm Anne, nice to meet you 🙂 I'm a yoga teacher specialising in Hatha and Aerial yoga. After completing my degree in psychology, I had a desk job at a marketing research agency for two years, after which I gave up the nine-to-five life and set off on my adventure as a freelance yoga teacher. During the summer, I live on a beautiful plot at the local allotment gardens here in Leiden, and during winter, I live in the city. I like to go climbing or bouldering: the higher up, the better!
I really enjoy Hatha yoga because it is relatively calm overall, enabling you to really empty your mind. Aerial yoga also had me from day one, because it is so playful and fun. I feel truly privileged being able to teach both of these types of yoga. Hopefully I'll see you in one of my classes soon!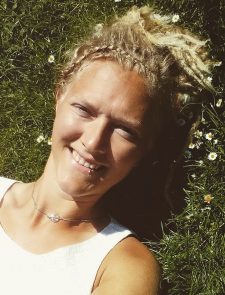 Robinson
Robinson studied art and philosophy and then left for India to explore the philosophy of yoga. The physical practice of yoga took root in her life there, in India, where she was taught by Iyengar and Hatha teachers. When she returned to the Netherlands, she fell in love with Vinyasa yoga. It felt as though I was finally able to consider my mind from a distance, and really rest within in my body. This has enabled me to find so much more enjoyment in life!
I am passionate about helping others connect to their bodies and feel calmer in their minds. Sometimes, this requires letting go of tension; sometimes, it's about activating a sense of strength. In my classes, I start off with stabilisation and then guide my students through flowing movement.
Peter
 For me, yoga is about being who you are, past time and space, body and mind. Every definition of yoga is not enough. Yoga requires constant precence in everything that you do, with minimal effort. Yoga is a paradox. It is a method to find stillness,  to practice without performing, to relax in exertion. 
This is what I want to teach. To be content in all your own possibilities, to experience your own resistance and recognise your patterns. By consciously breathing, moving and relaxing, you can turn inwards and learn to be at home within yourself in stillness. This process is filled with challenges, so allow yourself to be led by patience, love and perseverance.
Nadine
After spending a good 10 years working in the field of corporate services, I decided to make a change and start doing what I truly love. I've always been interested in getting people moving. Over the years, I have completed a wide range of massage, yoga and coaching programmes and courses, resulting in a brimming 'toolkit' for me to draw on in my treatments and classes.
I like to refer to myself as a 'professional pamperer' these days. I've learned that a good dose of dedicated, undivided attention paid to both body and mind can bring about a wondrous flourishing in people. My role in this process is to issue you an invitation, not an assignment or order, to dive deeper into yourself. I specialise in the yin side of the yoga spectrum: Nidra, Restorative & Yin. I also host Reiki & Restorative workshops.
Yvonne Achterkamp
Some lessons can only be taught by life itself. As a child, I spent my time immersed in books. I identified immensely with the character of Hermione from the Harry potter books. In 2003, my curiosity led me to Leiden to study archaeology. During my years at university, aside from being introduced to many languages and cultures, I also encountered various forms of yoga. I then obtained a second master's degree at the police academy and spend a good 10 years working in defense & security. It was a time in which I gained lots of extraordinary, meaningful experiences, which are now part of my proverbial suitcase of experience that I draw on as a yoga teacher.
Thanks to the yoga classes I attended and the lessons life taught me, I found a new balance between body and mind, reading and experiencing in the flesh, thinking and feeling. One of the most valuable lessons I've learned is that the solution or answer sometimes only reveals itself once you let go and trust the process. This notion of wuwei , a Taoist concept best translated as action through inaction, has become integrated into my life off the mat as well. This view on life is reflected by Yin yoga and the other, gentler forms of yoga and movement studies, most of them rooted in Taoist and Buddhist philosophies, that I am so drawn by.
Some lessons can only be taught by life itself. The yoga mat represents an invitation to explore your connection to yourself and to the world around you. Whether you are looking for a sense of peace, to recharge, to explore your boundaries, to check in with your body or become more conscious of the processes going on inside your head… The mat offers you a safe space from which to listen to whatever shows up for you, and whatever you might need. As a yoga teacher, I feel immensely grateful that I get to be the one to extend that invitation, and through my classes, offer you the room to explore your inner balance and connection to yourself further.
Yvonne & Lennert
Yvonne and Lennert first met in the summer of 2017. During their first meeting, they decided to go play in the park and found themselves instantly trusting one another. They really connected, and a mutual passion was born. They have attended many AcroYoga workshops and retreats and practice regularly during jams, at home, at the park or at the beach.
Lennert & Yvonne dedicated the summer of 2018 to completing their AcroYoga teacher training and started sharing the Acro love with you all at Liv soon after. They love seeing the amount of fun, progress and connection that is generated through AcroYoga. They teach weekly classes, host workshops, and attend a number of AcroYoga festivals each year.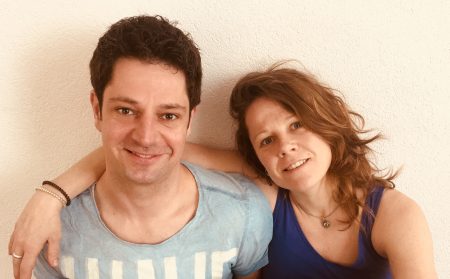 JASMIJN (Co-owner of Liv Yoga & Mindfulness)
My yoga classes are about more than just asanas and technical explanations. Using my personal energy and my love for life, I want to inspire people to explore and push their own mental and physical boundaries.
Life, with all of its challenging, beautiful lessons, has led me to where I am now. I find inner peace by truly believing that everything in life serves me on my journey towards growth and personal development, and by intuitively knowing that everything's all good, just the way it is, in the here and now.
During my yoga teacher training in India (endorsed by Yoga Alliance), I discovered that my personal philosophy on life largely overlaps with the rich philosophy of yoga. Yoga (in the widest sense of the word possible) helps me continue to grow and develop as a person.
I feel deeply grateful every single day for the opportunities I have been given to travel my own path, and I know that there is so much more beauty yet to be found in the future ahead.
In February 2014, I founded my own company, Royata Yoga & More. Apart from yoga, I am interested in personal growth, pursuing a healthy and sustainable lifestyle, meditation and mindfulness.
Love life!
Guido (Co-owner of Liv Yoga & Mindfulness)
It all started for me when I was about 20 years old, reading the Tibetan Book of the Dead in my little attic bedroom. I was reading the letters, the words, the sentences, but was unable to truly grasp the context. I was, however, deeply fascinated, and could not help but want to understand more. I made the decision to exchange my budding career for a pair of sturdy walking shoes and went off to the Himalayas to find answers. I climbed majestic mountain summits, passing prayer flags caught in the wind, travelling from monastery to monastery. What is it those monks are doing when they meditate, what's written down in those scrolls, why do they seem so deeply content and happy with next to nothing, and why do we in the west still feel discontented and unhappy even with everything we have at our fingertips?
Deeply touched, but also deeply lost, I met a Sadhu (a Hindu ascetic) by a waterfall. In a small, modest mountain hut, sleeping on hesian sacks for mattresses, he initiated me into the world of yoga philosophy, both mentally and physically. He never spoke, so we communicated through writing, and only ever if he felt doing so was 'relevant'. And so I learned. 'I am not my thoughts – life as I know it is an illusion.' My worldview was turned completely upside-down, but in the process, I experienced a deep sense of peace and found the inner source of calm and wisdom. I decided to stay in India and move in with my teacher in his cave in Hampi, in the southern part of India. While on the way there, I fell ill and was forced to return to the Netherlands. Back home, with my illusions about life left shattered in my wake and my head still up in the clouds of the Himalayas, I had immense trouble grounding and finding my way again. I decided to spend a few years in Africa, working as a travel guide, driving my safari truck through wildife reserves, spending time among the elements and visiting local tribes to get my feet firmly planted on the ground again. It worked!
Once I returned to the Netherlands once more, I spent a few years happily, dedicatedly contributing to the growth of travel organisation Riksja Travel, while making sure to frequently get on my mat in my spare time. Many years later, a long way from where this journey first started, I now (finally) feel as though I am able to integrate east and west in my life. My calling, which aligns perfectly with all of this, is to offer private and group-based mindfulness training courses and workshops. I am also co-owner of the beautiful Liv Yoga studio, along with my wife Jasmijn. This is where we first met, and where we got the opportunity to take our respective yoga journeys to the next level that we had both been searching for. It is our wish and our mission to share the joys of yoga as a lifestyle with you all, to inspire one another and learn from one another, and make the world just that little bit more beautiful together.
Namasté!
Guido
NEW YOGA TEACHERS
We always love meeting new yoga teachers. Feel free to stop by or send us an email. Who knows, you might end up joining our team at some point!
Much love,
THE LIV YOGA TEAM